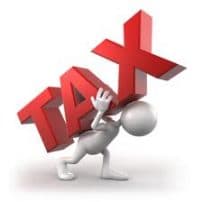 This is the season for scammers to try to take advantage of people.  According to HMRC, in 2018/2019, they received around 900,000 reports about possible tax scams.  This is staggering, considering most people won't bother to tell them.
Dodgy Phone Calls
If you owe HMRC tax, you will receive a statement and then a reminder.  You will likely have received number of letters from HMRC before they start ringing you.  So if you get a call stating that you owe tax and you haven't received any correspondence from HMRC and you are fairly sure you don't owe them any money, then it's likely that it's a fake call.  The scammer will either want your details (for identity theft) or money.  Don't give them any information at all.  Hang up and don't ring them back, as this can trigger charges.  If you are concerned that you owe HMRC money, ring their helpline or ask for an accountant's help in straightening things out.
Texts And Emails
HMRC will NEVER text you.  Don't respond to any text messages.  Emails can look like they have come from HMRC and they often come with a link to 'Click Here to Pay'.  DON'T click on anything or respond.  HMRC follows a standard procedure to collect money, starting with statements and progressing to letters.  They will NOT send a random email demanding money.
Check HMRC'S Website
HMRC's website contains examples of tax scams.  Please visit the (legitimate) website at:
https://www.gov.uk/search/all?keywords=scams&order=relevance